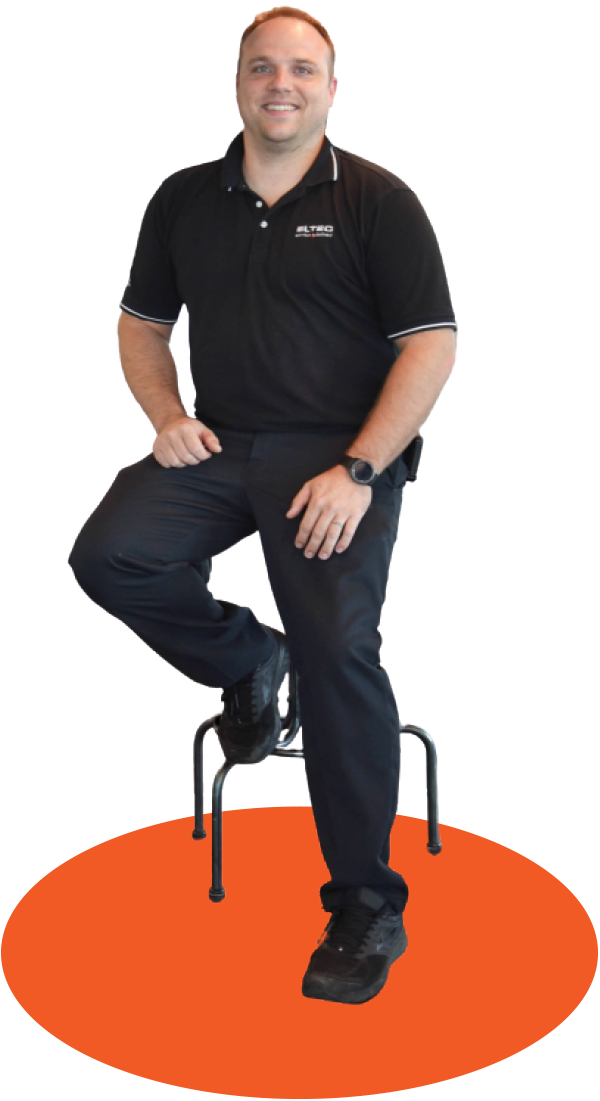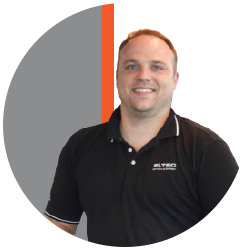 Jake Peter-Sandiford
Role @ ELTEC: Service Mechanic-in-Charge Zone 1

Started in Trade: 2006

Started @ ELTEC: 2006
My favorite things about my role at ELTEC are pretty simple: -Passing on my knowledge and helping my team mates fix things.
One of the coolest things about my role in creating the ELTEC Customer Experience is that I'm empowered to be their Trusted Advisor —-this comes from developing a good relationship with my customers. Showing up to a job and having my customers know they are in good hands, and that their equipment problems will be dealt with, is very satisfying to me.
Away from my customers, what I enjoy most is spending time with my family and neighbors. We live in a super cool neighborhood where we are close friends, as well as neighbors. We float the cedar river on a regular basis, have bonfires, help on each other's project, go camping and go hiking. I have an annual pig-roast in my backyard, an annual pumpkin carving party for the kids in my garage—-I guess you could say I'm active in my community!
Trade Credentials:
National Elevator Industry Educational Program (NEIEP) Instructor since 2016

Taught Modules 200 hoistway structures, 300 basic electricity and 400 motor theory. Basic electricity is the main course I teach

Certified to teach some of our Continuing Education Classes to mechanics, such as Hydraulic Valve and Motor Lab

Certified CPR Instructor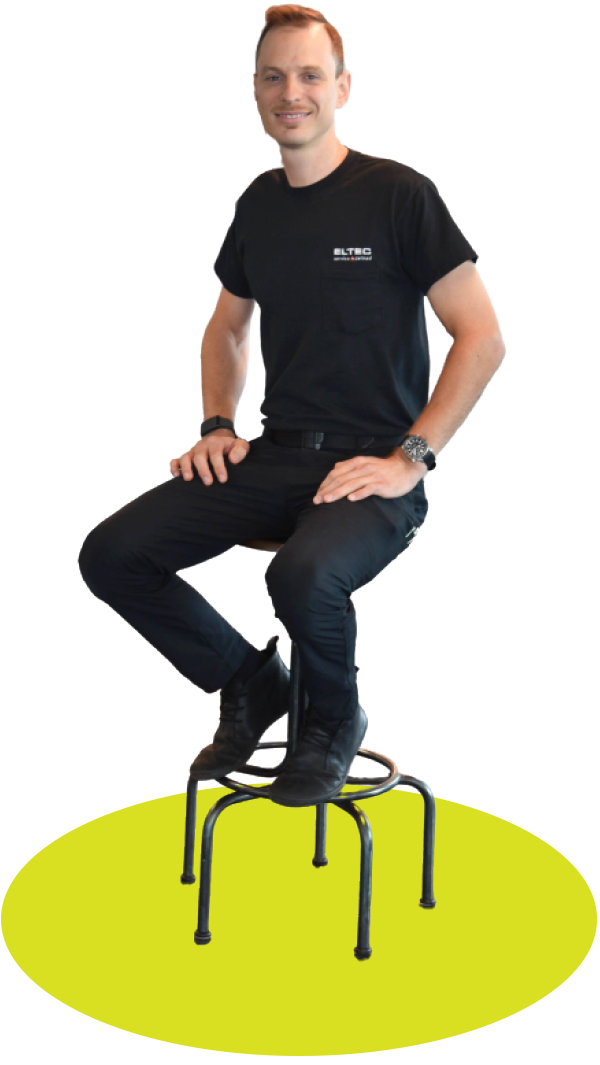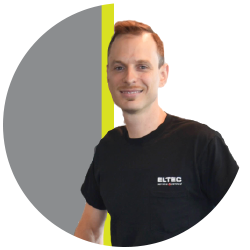 Zach Gudwin
Role @ ELTEC: Mechanic-in-Charge / Zone 1

Started in Trade: 2005

Started @ ELTEC: 2019
When I started in the trade, I was fortunate to work with an extremely talented Mechanic, and I soaked up a lot of knowledge.  My mentor took me under his wing and taught me everything he knew. I owe a lot of my work ethic and troubleshooting philosophies to him.  So, it's no surprise that the favorite part of my job is training Mechanics, as well as keeping my field team happy and productive.  I really like working as part of a team and sharing what I've learned over the years.  My commitment to the ELTEC Customer Experience is helping my customers with their vertical transportation needs.  I enjoy interacting with our customers because it gives me an opportunity to relieve stress from their lives. Life has enough stressors and if I can help remove one, I feel like I'm making a positive difference.
When I'm not at work, I have two main things in my life, family and training.  As a young dad I spend a lot of time with my teenage daughter.  We like getting bubble tea, practicing volley ball and going on back packing adventures.  As for me, I'm all about an active and healthy lifestyle.  I spend a lot of time riding my bike.  I train every day, and race my bike all seasons.  Some people would say I'm crazy but that's how I live my life.  If I decide to do something, it's 100%—-so, if you see me on your job, rest-assured I'm in it for the win!
Trade Credentials: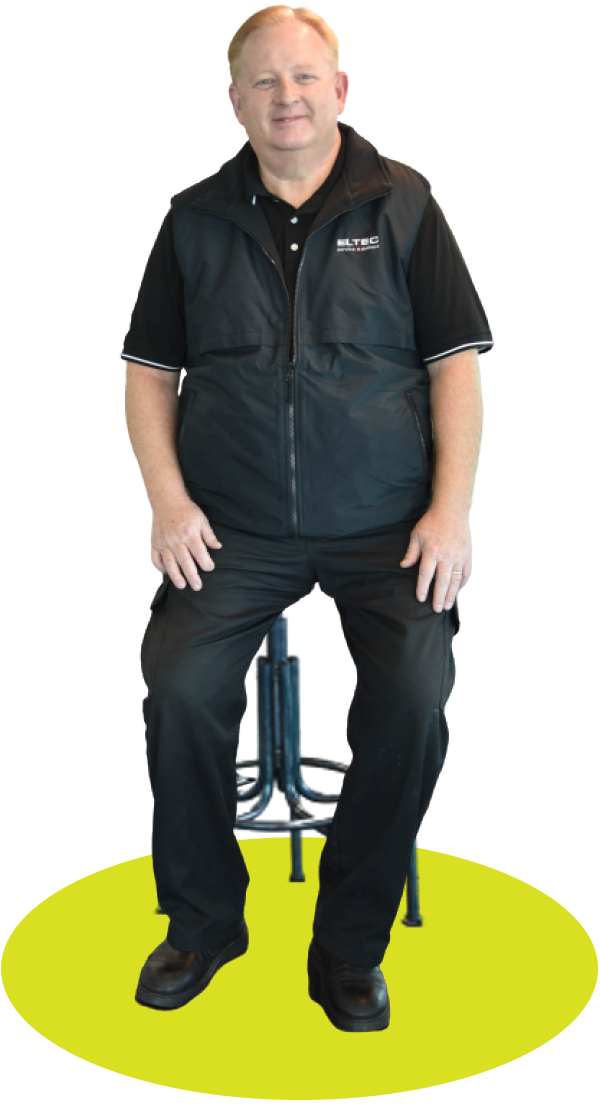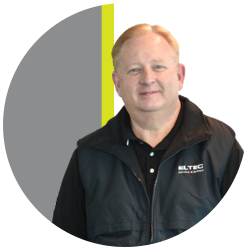 Mike Hastings
Role @ ELTEC: Mechanic-in-Charge / Zone 1

Started in Trade: 1986

Started @ ELTEC: 1998
I am proud and fortunate to have been the first employee hired at ELTEC.  I have been heavily involved in Sales and Service from the very beginning, and I take great pride in leading our teams to be successful on a daily basis.  My emphasis is always to build strong relationships with our customers, and to become their Trusted Advisor for their elevator needs.  One of my favorite things to do is trouble-shooting with a new Mechanic in the field, where I teach helpful tips that can be used throughout their career—-passing on my knowledge!
I say with great pride that I have recruited my 2 brothers, Rob and Darrin, to become Mechanics and Mechanic-in-Charge @ ELTEC, respectively.  To top things off, my wife Kitt is the ELTEC Office Manager and daughter Christine is the Service Operations Coordinator—they keep Darrin, Rob and I on our toes!
When I'm not troubleshooting and mentoring my team, I spend time with my family as they are #1 to me.  I also love all sports, boating, camping and traveling.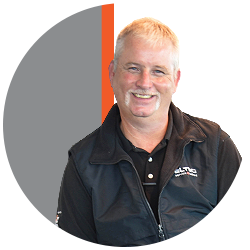 Darrin Hastings
Role @ ELTEC: Mechanic-in-Charge / Zone 1

Started in Trade: 1996

Started @ ELTEC: 1999
In my role at @ ELTEC, I find it rewarding to mentor and work with Mechanics to teach them trouble-shooting techniques that are new to them.   I especially enjoy helping them develop their customer service skills.  I personally pride myself in creating my very own ELTEC Customer Experience, as I get to know my customers not just as a vendor, but as a friend.  When I tell my customer I'm going to do something for them, I always follow through!
When I'm not taking care of my customers @ ELTEC , I most enjoy vacations, my close-knit family and local sporting events.
Trade Credentials:
Served 2 terms as Union Warden

Assist in teaching classes @ ELTEC University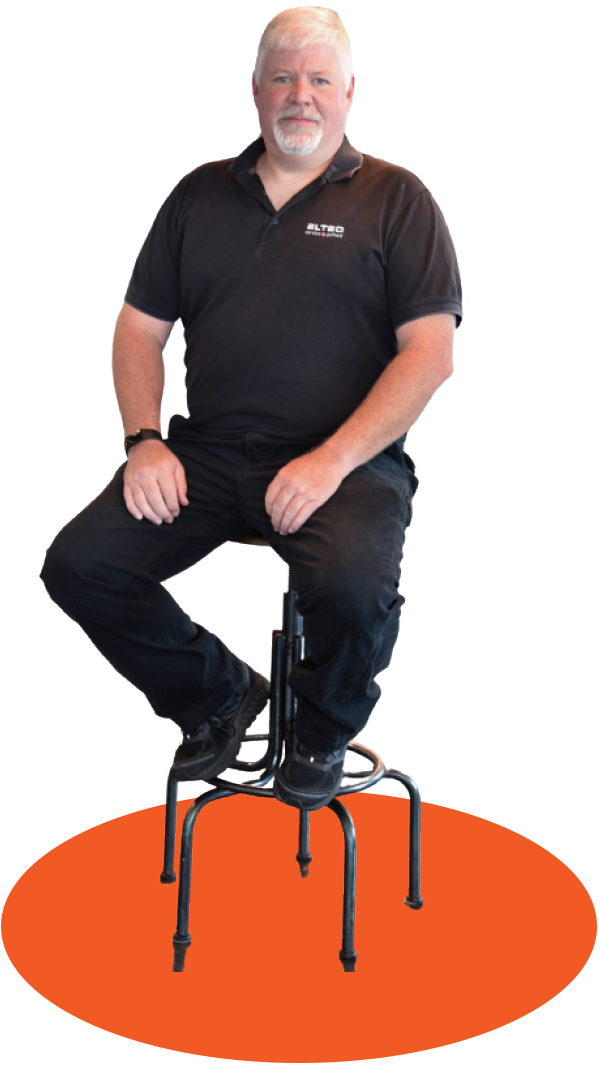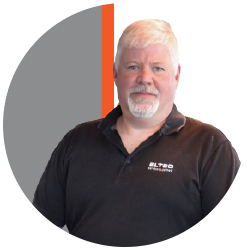 Eric Lindblad
Role @ ELTEC: Mechanic-in-Charge / Zone 2

Started in Trade: 1998

Started @ ELTEC: 2016
My role @ ELTEC allows me to help others and make a positive difference where I can. In creating the ELTEC Customer Experience, I work to respond to customers' requests as soon as possible. I also work to remove confusion and fear when communicating with my customers regarding their elevator issues. I take complex equipment issues and interpret them so they are easy for my customers to understand, and couple that with my solution on how to most effectively fix the problem and get their equipment up-and-running as quickly and efficiently as possible. Due to my amount of experience working with elevators, I enjoy educating my customers on all aspects of elevator challenges that come their way.
In my down-time I enjoy History, Alternative Energy/Fuel, HAM Radio Operator, building and improving things, Strategy and vacationing in faraway places.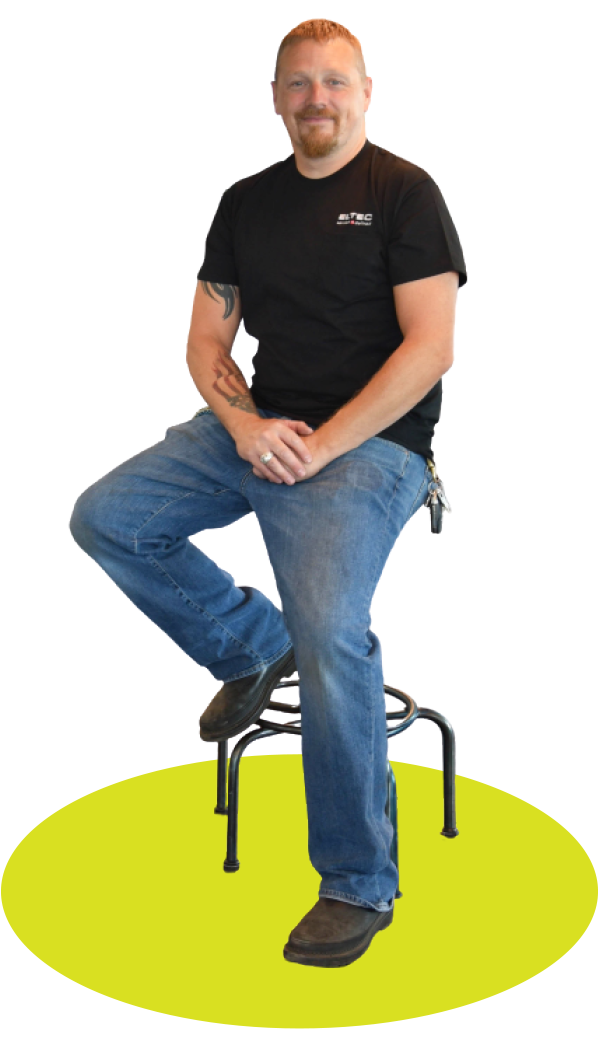 Jason Blair
Role @ ELTEC: MOD Mechanic-in-Charge

Started in Trade: 2005

Started @ ELTEC: 2011
What I enjoy most about my role @ ELTEC is training apprentices and completing a MOD job for our customer knowing the elevator is SAFE, has a smooth ride and is reliable.  I also really love to do adjusting and program new controllers.
When I'm not on a MOD job, I enjoy spending down-time with my family and also riding my motorcycle around the state—freedom!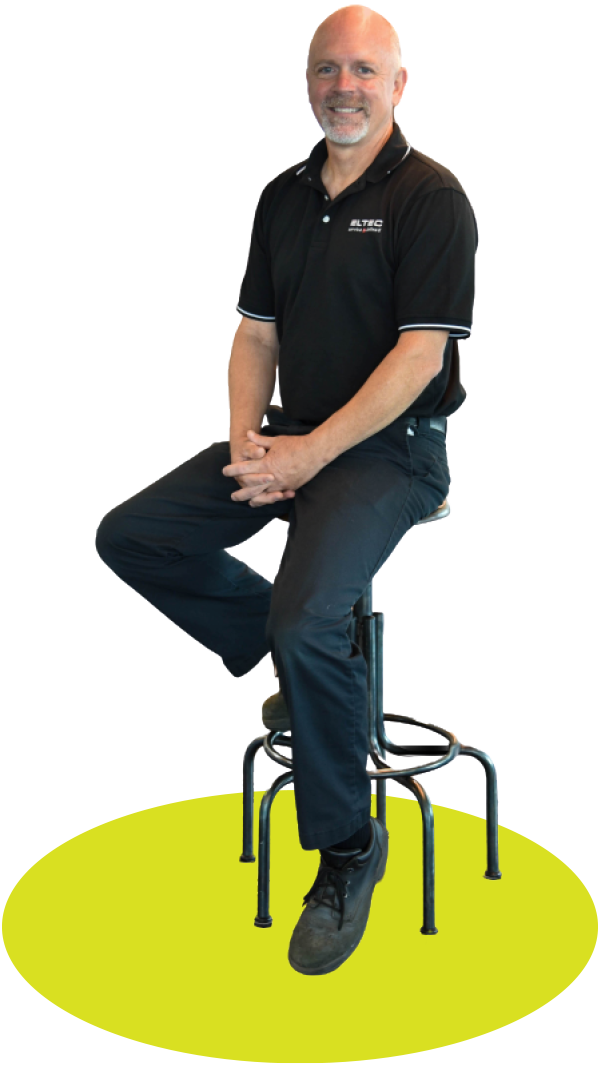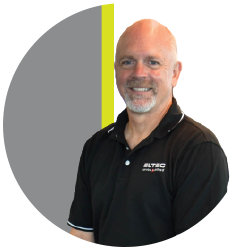 Dave Breeding
Role @ ELTEC: CODE Compliance Mechanic-in-Charge

Started in Trade: 1988

Started @ ELTEC: 2008
After 30+ years in the Elevator Industry, one of the most satisfying aspects of my profession is being part of the CODE Compliance Team @ ELTEC.  Knowing our customers are being provided with the highest level of SAFETY and CODE Compliance is my #1 priority—let's talk CODE!  The ELTEC Customer Experience is all about excellent proactive communication, knowing our clients' needs and educating them in the process.
When I pull away from CODE @ ELTEC, I enjoy hiking, traveling, photography and spending quality time with my family.
Trade Credentials:
QEI Certified Elevator Inspector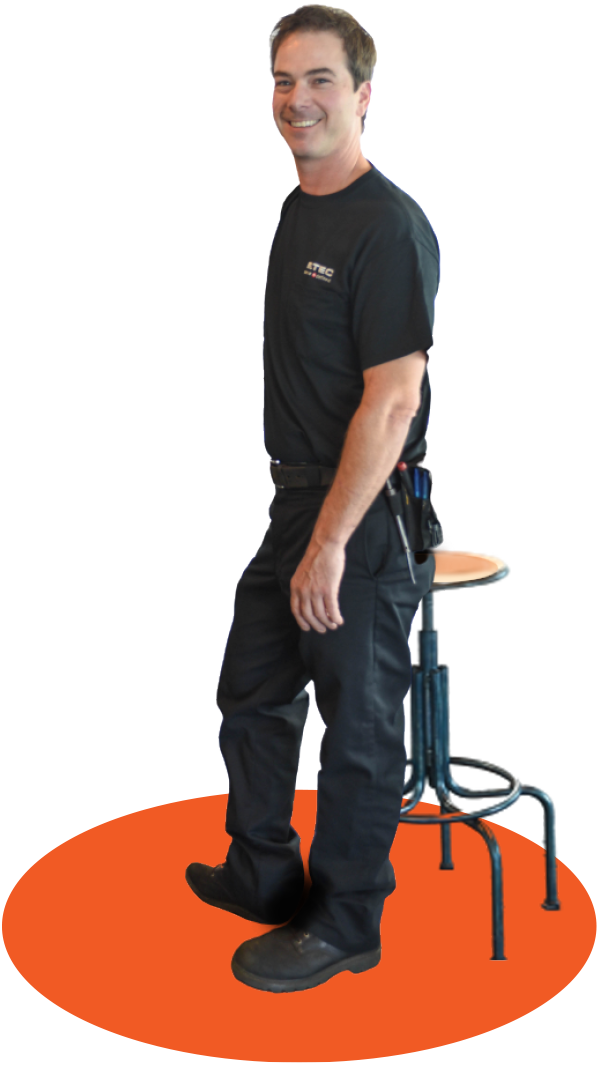 Paul Burggraff
Role @ ELTEC: Service Mechanic-in-Charge / Repair

Started in Trade: 1996

Started @ ELTEC: 1999
I love ELTEC because it is my family, and the company allows me to think outside of the box for solutions.  This gives us an advantage in meeting our customer's needs.  I have always felt appreciated and needed at ELTEC, which has helped me drive my success with the company.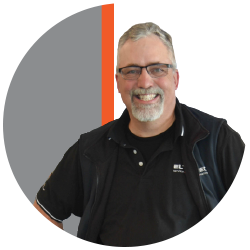 Shane Sweeny
Role @ ELTEC: Service Mechanic-in-Charge / Zone 2

Started in Trade: 1997

Started @ ELTEC: 2020
In my role @ ELTEC, I really appreciate the flexibility given to me to support my team effectively, as I'm all about helping the Mechanics be the very best they can be.   Having the team members available to give customers accurate information in a timely manner allows us to be effective Trusted Advisors for our customers.  This is something our customers love and appreciate about ELTEC as it is key in delivering a stand-out Customer Experience they can count on.
When I'm not in the field working with the mechanics and advising customers, I really enjoy hunting, gaming and working on cars and trucks.
Trade Credentials:
I am a current NEIEP instructor.